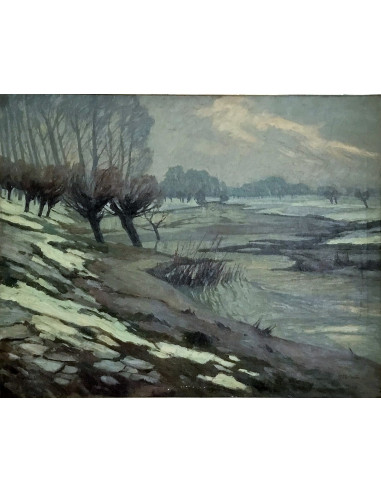  
Erich VON PERFALL (1882-1961), Winter Landscape
Painting by Freiherr Erich von Perfall, Winter landscape with river.
Data sheet
School

Germany

Medium

Oil on canvas

Artist

Erich Freiherr von Perfall (* 28. Januar 1882 in Düsseldorf; † 20. Dezember 1961 ebenda)

Signed

right below E Perfall

Size

Ca. 80 x 100 cm
Freiherr Erich von Perfall was a German landscape painter and draftsman. He was a student of Peter Jannsen, Wilhelm Schmurr and Willy Spatz at the Kunstakademie Düsseldorf and at the Großherzoglich Badischen Kunstschule Karlsruhe with Hans Thoma. From about 1908 he was influenced by the "artists group Niederrhein", whereby he turned to Neo-Impressionism.
The focus of his work was the Lower Rhine. Preferred subjects were silent views of the Rhine, fishing scenes and the break landscapes on the Erft. He worked almost exclusively outdoors with a wide brush and spatula. His light-filled, atmospheric paintings are the successor of French Impressionism and the tradition of Düsseldorf open-air painting. (Source Wikipedia)