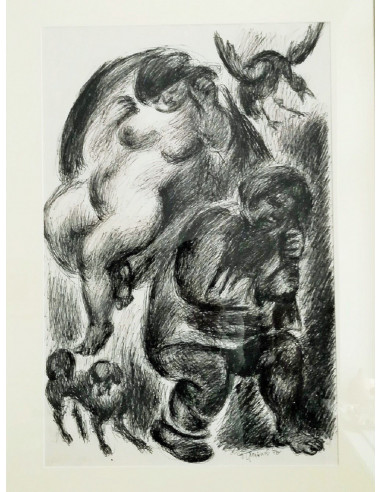  
Anatolie Slepyschew Stepanowitsch (*1932), "Zwei Schläfer, Vogel und Hund", 1976
Work of the contemporary, internationally known Russian artist Anatolie Slepyschew Stepanowitsch of 1976, drawing on handmade paper, 70 x 50 cm, framed. 
Data sheet
School

Russia

Title

"Zwei Schläfer, Vogel und Hund" so titled on label

Medium

Ink Drawing/Paper

Year of Production

1976

Artist

Anatolie Slepyschew Stepanowitsch (born 1932 in Lopatino, Penza/Russland).

Signed

bottom right signed and dated (19)76

Size

Object 75 x 50 cm, framed
About the artist:
1960-65 studies at the State W.I. Surikov Academy of Fine Arts in Moscow. Works as a freelance artist in Moscow since 1965, numerous exhibitions. 1988 Participation in the internationally important exhibition in Moscow "Russian avant-garde and contemporary art in Russia". Moved to Paris in the early 1990s, returned to Moscow in 1996. Slepyschew's artistic work is in the tradition of Soviet non-conformist art. His compositions have a narrative character.
The artist's works can be found in:
State AS Pushkin Museum of Fine Arts in Moscow, State Russian Museum in Saint Petersburg, State Art Museum Novosibirsk, State Art Museum Archangelsk, State Art Museum Istria, Museum Ludwig in Cologne / Germany, National Gallery Berlin / Germany, Zimmerli Art Museum in New Brunswick / USA ; as well as in numerous private collections in France, Germany and Russia.
(Quelle: Art for Collectors, Natalia Henkel, Berlin)