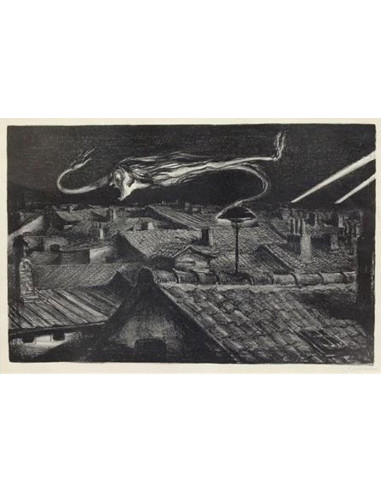  
Andreas Paul Weber (1893–1980) "Sirene", 1942
Lithograph "Sirene" by Andreas Paul Weber from the Second World War (1942), work directory Dorsch, signed and framed.
Data sheet
School

Germany

Medium

Lithograph

Type

Lithograph Work Directory Arp 23 Dorsch 2247

Signed

signed down left with pencil

Size

32 x 48 cm
About the artist:  
Andreas Paul Weber was a German artist best known for his dark and illustrative lithographic prints that provide social commentary and satire of early 20th-century German culture, politics, and society. Born on November 1893 in Arnstadt, Germany, Weber studied briefly at the Kunstgewerbeschule Erfurt before pursuing a transcendental lifestyle from 1908–1914, when he began to experiment with lithography. It wasn't until World War I that he achieved significant recognition, as his work began to circulate through book illustrations and publications such as the Magazine for National Revolutionary Politics. Despite holding strong anti-Semitic sentiment throughout his adulthood, Weber notable opposed Hitler and the Nazi Party, joining and participating in drawing political illustrations for Ernst Niekisch's National Bolshevist resistance party. Before his death on November 9, 1980 in Schretstaken in Mölln, Germany, Weber was honored with the opening of the A. Paul Weber Museum in Ratzeburg, Germany.
(Quelle Artnet.com)