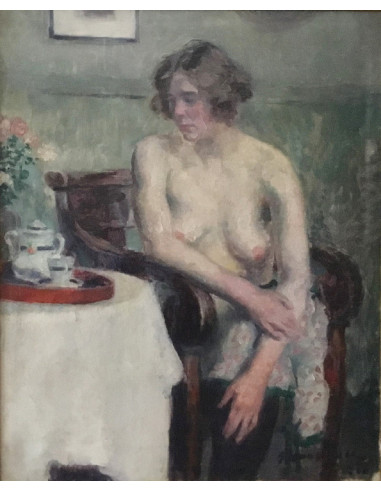  
Gaston Haustrate (1878-1949), Morning tiredness
Portrait by Gaston Haustrate, Belgium School. Illustration of a woman in the morning in her interior. Oil/canvas. Signed and dated 1922.
Data sheet
School

Belgium

Medium

Oil on canvas

Artist

Gaston Haustrate (Haustraete, Haustraat) (1878 Bruxelles -1949 Ixelles/Bruxelles)

Signed

signed and dated 1922 (probably)

Size

80 x 65 cm
Gaston Haustrate was painter of city views, landscapes and portraits. Studied at the Brussels Academy. Haustrate specialized in the representation of the old districts, the dead ends and the alleys of Brussels, treated in fluid plays of shade and light through bluish tones. Member of the Le Sillon group from 1899.
His paintings are among others in Brussels in the Museum of Ixelles and in the Museum Charlier and in Oostende in the Art Museum aan Zee.